Design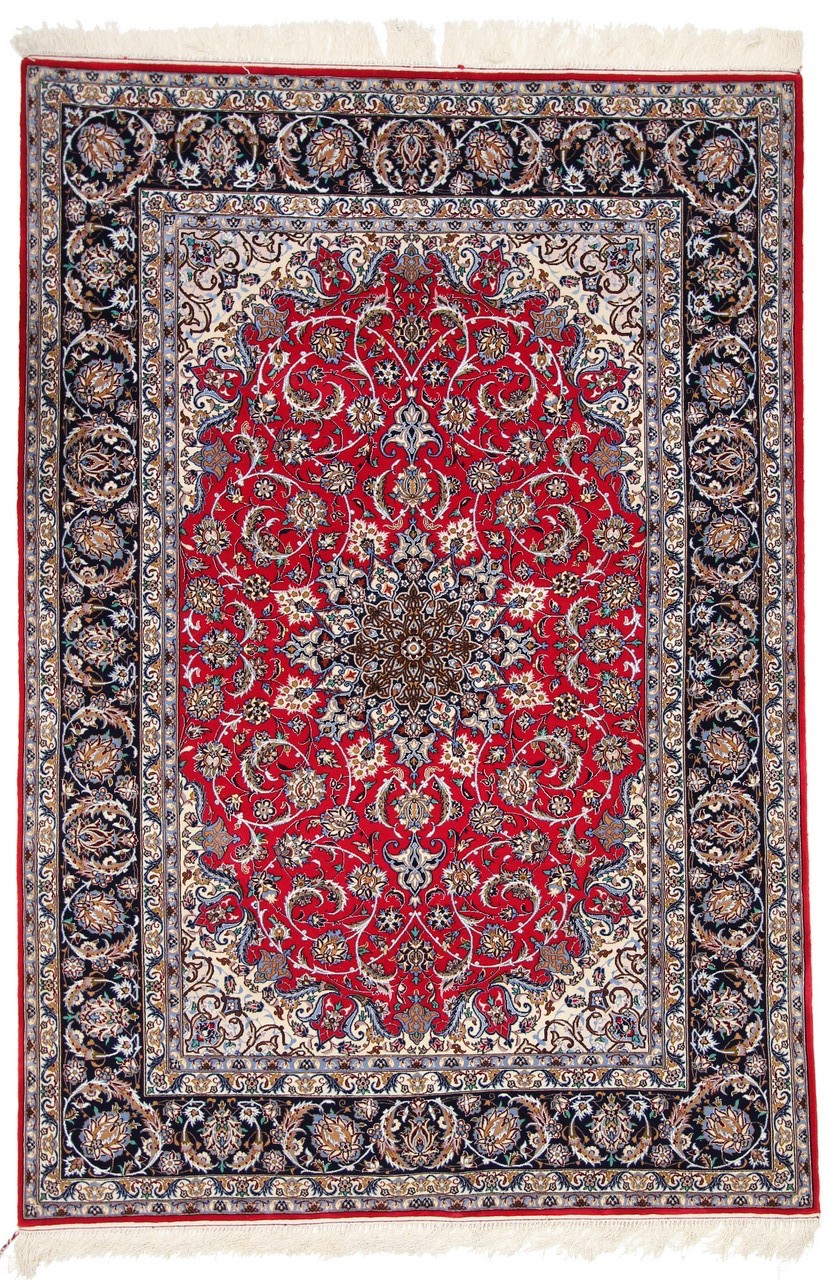 Isfahan rug with elaborate stylized patterns and 1,000,000 knots per square meter
Even today, the designs of traditional oriental rugs are still drawn with paper and pencil. Nomadic rugs and simpler designs are often knotted purely from the weaver's memory and without any pattern. The style of the rug thus also indicates the origin of the rug. Depending on the degree of detail of the design, the rug must be knotted at a certain density. The higher the knot density of a rug, the higher the level of detail can be realized. Therefore, very fine rugs with knot densities of one million knots per square meter usually have very elaborate patterns and decorations.

The design of an oriental rug can be divided into different categories. There are stylized, geometric and figurative patterns in the traditional design. In addition, completely new elements are implemented in modern design, which either stand in combination with traditional ornaments or are put on completely new.




Stylized Patterns
Stylized patterns are curved lines that can occur in a wide variety of forms. Often flowers and plant motifs are stylized, but also other motifs, such as vases occur. Stylized patterns can also be found in both medallion and row designs. In order to be able to represent a curved line, the carpet must have a higher knotting density, otherwise the curves cannot be represented roundly and would appear angular. So high quality rugs mostly stylized patterns.
| | |
| --- | --- |
| | |
| Nain 6La with middle medallion | Antique Sarough with floral patterns |
Geometric Patterns
Geometric patterns are those that consist of straight and angular lines. These include rectangles, angles, triangles, etc. They are often used on carpets that have a somewhat lower knotting density and no stylized patterns make possible. Circles are unusual because they would appear angular. Usually geometric patterns appear on village and nomad rugs. This includes for example
Gabbeh
,
Shiraz
or
Hamadan rugs
. also
Kilims
have geometric Patterns caused by their flat weave.
Figurative Patterns
These types of patterns represent humans or animals. Figurative patterns are often used in conjunction with historical or mythological motifs. For this reason rugs with figurative patterns are also often used as tapestries. Instead of a clear pattern, they recreate a certain situation or person.
| | |
| --- | --- |
| | |
| Tapestry from Tabriz | Tapestry with 500.000 knots / sqm from Tabriz |
Modern Design
The modern design of hand-knotted oriental rugs now includes numerous new motifs created by contemporary designers and knotted in the Middle East. The combination of modern design and traditional Arts and crafts offer many advantages over machine-made counterparts. Natural colours are incomparably soft and intense, knotting can be very dense and detailed and the pile is made of robust and soft sheep's wool.
Oriental rugs in the modern design
are either provided with a completely new design or they offer an artistic combination of traditional patterns and modern elements.
| | |
| --- | --- |
| | |
| Floral motif of a Sadraa rug | New design of a Galaxy rug |
Examples in direct Comparison
Here we have put a few rugs next to each other as examples for you to see the individual pattern and design types in direct comparison. Under our tips for buying rugs you will also find the most important information for a well thought-out decision on the right rug.
| | | | |
| --- | --- | --- | --- |
| | | | |
| Persian Kashan rug | Persian Qom rug | Afghan Kilim rug | Indian Gabbeh rug |
| | |
| --- | --- |
| Stylized patterns | Geometric patterns |
Production in Detail
Production of Oriental Rugs
Centuries-old tradition is the basis of almost every Oriental rug. Long ago Persian rugs were already considered the highest luxury...
Read more
Material
Whether sheep wool, silk or cotton, the material of a hand-knotted oriental rug usually comes from nature...
Read more
Colours and Dyeing
The colours of many high-quality oriental carpets still originate today from plants and minerals...
Read more
Design
No matter how detailed the pattern may be, some knotters still craft the rug from memory today...
Read more
Knotting
An art that has been perfected over many centuries and is still unrivalled today...
Read more
Finalisation
After the actual knotting, the rug is far from finished...
Read more
Comparison to machine-made Rugs
Colour facets, durability, level of detail are only a few of the differences to machine-made rugs...
Read more