Comparison between hand-knotted and machine-made Rugs
Different coloured yarns in machine carpet production
Since the 19th century the loom has become more and more industrialized and automated. In England in particular, rugs were initially produced in large numbers by machine. Over time, the production method was more and more optimized. and shortened. On the one hand less manual work was needed in the production steps and on the other hand the production time was reduced to meanwhile only approx. one hour for a whole carpet. In comparison, a handmade carpet several months, if not years in knotting.

While the production method between machine-knotted and hand-knotted carpets differs substantially, one can usually see a difference quite quickly with one's eyes:

The fringes of a machine-made carpet are in most cases sewn on for purely decorative reasons. In a handmade example, fringes are the end piece of the warp thread that holds the knots together. The fringes of Nain rugs for example, even show the quality level.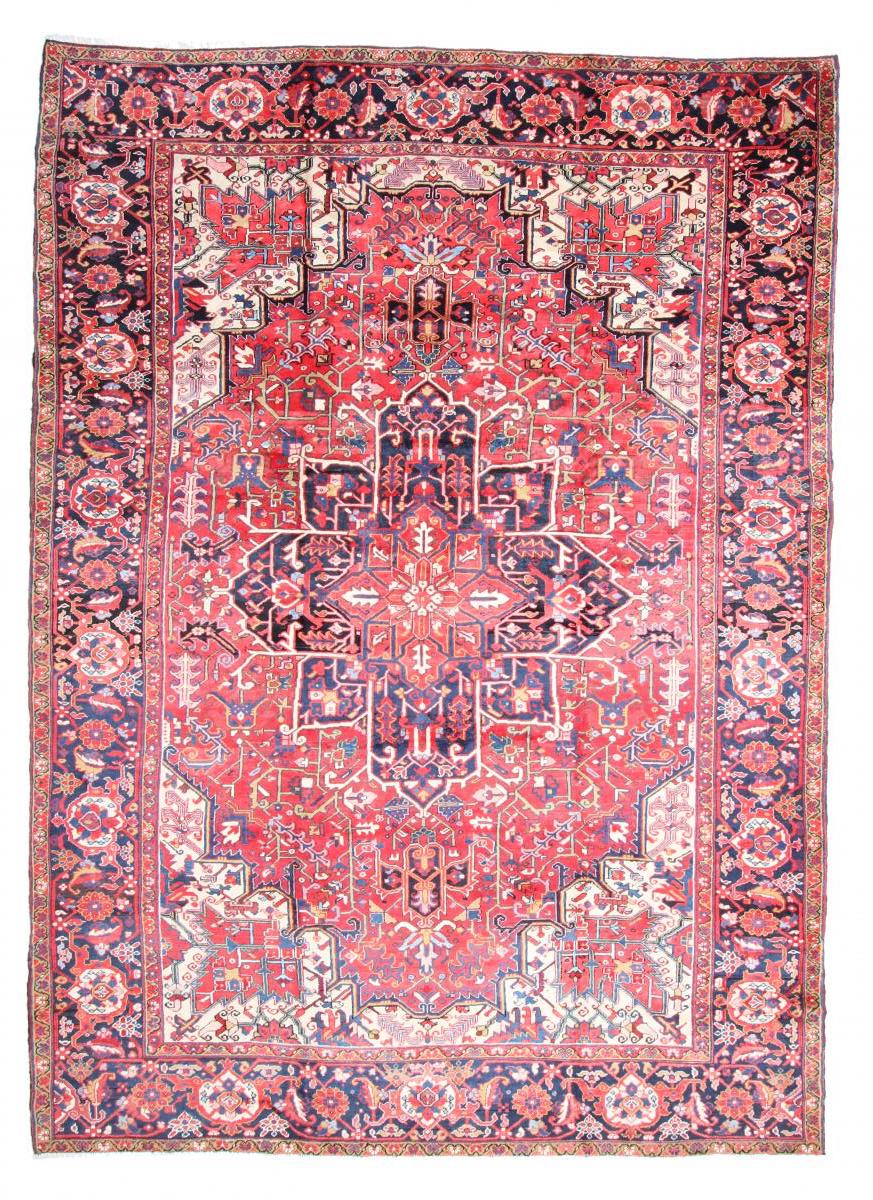 Heriz Persian rug with slightly asymmetrical pattern and over 10 different colour shades
The patterns
offer another important point of difference. With industrially manufactured carpets, the pattern is usually mirrored by a software and is 1:1 symmetrical on both halves. A knotter would never be able to do this 100% accuracy by hand. He usually only sees the small details of the pattern when the pile of the final carpet is trimmed. Although these are details, they give the carpet an individual character that makes it unique and, in the case of special pieces, even guarantees an increase in value.
Symmetry is an important feature to look out for. One can tell from an uneven edge and rug shape, as well as from irregularities in the knots on the back that a rug was knotted by hand. Machine-made carpets show virtually no irregularities or deviations from the norm.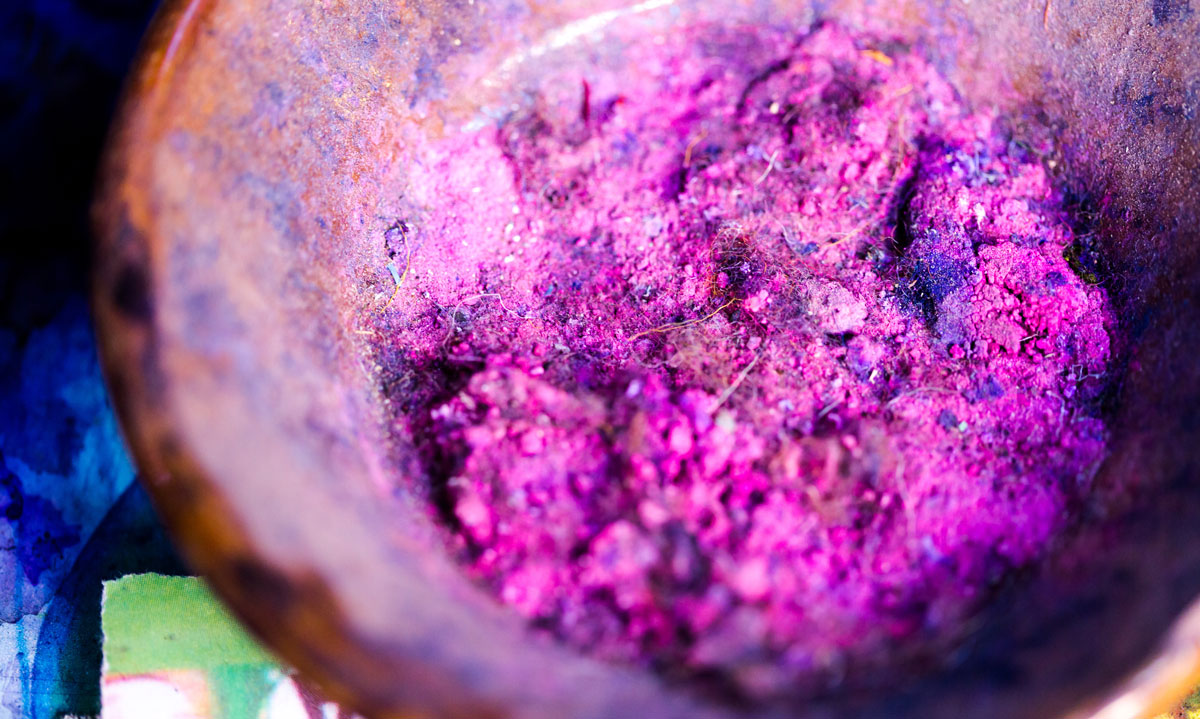 Colour pigments from natural material in a clay bowl
Durability, natural materials and attention to detail
are further differentiators. If you want to invest in a high-quality hand-knotted carpet, you will not only get a piece of traditional craftsmanship steeped in history, but also a carpet made of
natural materials
with a longer lifespan. Although there are also machine made carpets made of sheep's wool and other natural materials, most of them are artificial, or chemical colours have been used as dyes. In addition, they do not come close to the knot density and quality of fine oriental carpets. In machine-made carpets, for example, only 8-10 colours can be combined, while there is no limit for handmade carpets.
Examples of hand-knotted Rugs in Detail
Heriz Persian Rug 296x189cm

This Heriz-rug is an example of Persian rug-making. Its rustic finish testifies to its durability. It was hand knotted in the town of Heriz, near Tabriz in northwestern Iran. The ornaments of Heriz carpets are extremely popular today and are seen as very modern.



View in shop

Bakhtiar 428x309cm

This Persian Bakhtiar was hand knotted by nomads of the Bachtiari tribe. The design of its patterns is inspired by Persian gardens. The relatively high knotting density together with the strong yarn promises a long life.



View in shop

Ziegler Farahan 240x177cm

This Ziegler Farahan was hand knotted from high quality wool in Pakistan. The sheep's wool has a natural fat content, which additionally protects the carpet from everyday stresses. The special treatment method of these carpets achieves a beautiful, modern vintage patina. The carpet is based on traditional Persian carpets and together with modern design elements it has been brought into modern times.



View in shop

Gabbeh Loom 351x251cm

This Gabbeh rug was hand-knotted from hand-spun sheep's wool by Ghasghai nomads in the province of Fars in southern Persia. Only natural plant dyes are used to dye the wool. Thus it is harmless for almost all rooms.



View in shop
Production in Detail
Production of Oriental Rugs
Centuries-old tradition is the basis of almost every Oriental rug. Long ago Persian rugs were already considered the highest luxury...
Read more
Material
Whether sheep wool, silk or cotton, the material of a hand-knotted oriental rug usually comes from nature...
Read more
Colours and Dyeing
The colours of many high-quality oriental carpets still originate today from plants and minerals...
Read more
Design
No matter how detailed the pattern may be, some knotters still craft the rug from memory today...
Read more
Knotting
An art that has been perfected over many centuries and is still unrivalled today...
Read more
Finalisation
After the actual knotting, the rug is far from finished...
Read more
Comparison to machine-made Rugs
Colour facets, durability, level of detail are only a few of the differences to machine-made rugs...
Read more